French Cooking Class
Mayu's kitchen & Co. offers delicious French cooking class for everyone. Chef takes you through the whole meal process (appetizer, main dish, dessert) and everyone will enjoy the meal as a reward. It is fun learning in small groups, relaxing & friendly home-style environment. All ingredients, equipment, original recipes are provided. A glass of wine or soft drink, bread, tea are served at meal time. You will feel very grateful by the praise from your families & friends on your new learning of French cuisine. All classes are conducted in English or Bilingual (English and French or Japanese).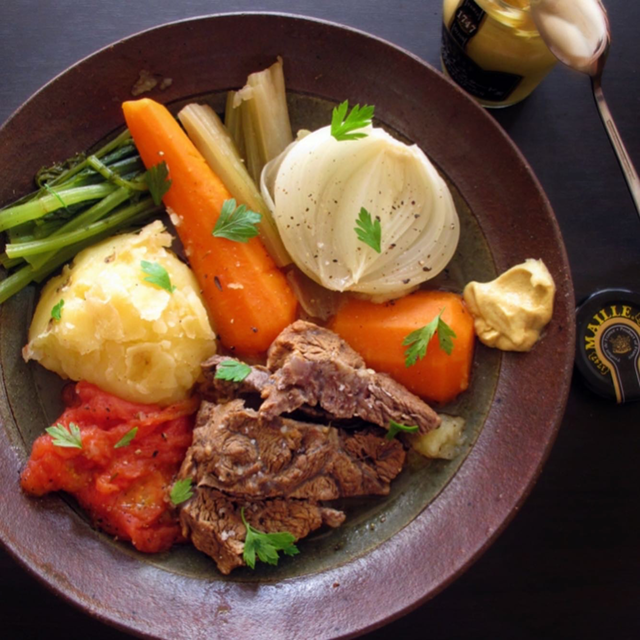 ---
Table of Contents
☬ What You Will Learn
French seasonal ingredients
French food & wine culture and history
Health benefits of cooking methods and ingredients
Basic culinary technique: preparation, storage, and presentation
Original recipes with substitutions and variations
☬ Menu
The menu includes appetizer, main dish and dessert.
The menu changes every month along with best seasonal ingredients and annual events.  It is covering classics, like "Quiche" and "Soupe à l'oignon" to "Boeuf Bourguignon", and "Soufflé".  You'll almost always be making something fun and new when you come to our class.
Example menu during Christmas season
☬ Schedule
By appointment only.
Monday to Friday 10:00 to 13:00 @ Mayu's Kitchen & Co. in Kennedy Town.
Monday to Sunday for 2 hours workshop @ your place.
☬ Cost
850 HKD per person for a group lesson with 4 or more participants.
3,400 HKD per class for 1 to 3 students.
Round trip HK taxi-transportation cost will be charged if the location is your place.
☬ Booking
Provide us with details information, including date, # of participants, food restrictions, and as detail as possible.
Receive our pre-booking email with the invoice & our bank account information, if we are available for you. 
Make a payment and send us the copy or snapshot.
Receive our email with the booking confirmation, including the details and the full address of Mayu's Kitchen & Co.
☬ Booking Policy
The classes are enrolled on a first come first serve basis.
Booking is completed with the confirmation of your payments. The deadline is 1 week prior to the day of the class.
Payment must be made within 24 Hours, seats will be automatically released otherwise. Seat is not guaranteed until payment is made.
Payment can be made by cash, check, or direct payment (bank transfer).
☬ Registration Cancellation Policy
All our classes are non-refundable.
Please inform us as soon as possible if you know you will not be able to make it to the class. With 72 hours' notice in advance, we will reschedule your booking to another class. Otherwise, there is a 100% charge for all cancellations with less than 72 hours' notice. Alternatively, you are more than welcome to send a friend in your place.
Regarding on the monthly fixed-date-classes that are announced in our SNS, the minimum enrollment we require for a class to take place is 4 people. We will decide If a class is cancelled due to lack of enrollment 48 hours in advance, if this is the case, we will call you as soon as possible to let you know. A refund for the class will then be issued.
T8 or above: all of our classes and service are cancelled. We will reschedule your booking to another class.
☬ Special Class Policy regarding the outbreak of Coronavirus
Prior to attending our classes, please ensure you and your close contact family members have not travel overseas nor having any symptoms in the past 14 days. In case of any discomforts, please do not come to class. Please notify us 48hrs prior the class, class fee would be credited to use within six months.
In case of government required social distancing restrictions, classes may be postponed or rescheduled. Affected parties may choose to reschedule or register in another class or keep the class fee as credit to be used at the future classes within six months.
Upon arrival to the class, our staff will perform temperature check and use disinfectant sprays. Please change your shoes and wash hands thoroughly with hand wash upon arrival. Please be aware that face masks MUST be used throughout the entire class. If there are any suspects of sickness, you may be asked to leave the class immediately with no refund or redemption.
Upon signing up to the class, you have agreed to the terms and conditions above. In case of any misinformation, Mayu's Kitchen & Co., reserves the right to make claims for any loss and damages caused.
---

French Cooking Class

If you have any questions regarding details or schedules,
please feel free to contact us.