JAPANESE COOKING CLASS
Having the foundation of key Japanese ingredients, Japanese food can be cooked easily, like Japanese mothers do every day for her family. Not only a source of entertainment, but learning from the professional chef, there also allows you to grasp the key culinary skills in Japanese cooking. So, when you have Japanese food at home or at a restaurant, you can connect with the dishes at a deeper level. All classes are conducted in English or Bilingual (English and French or Japanese).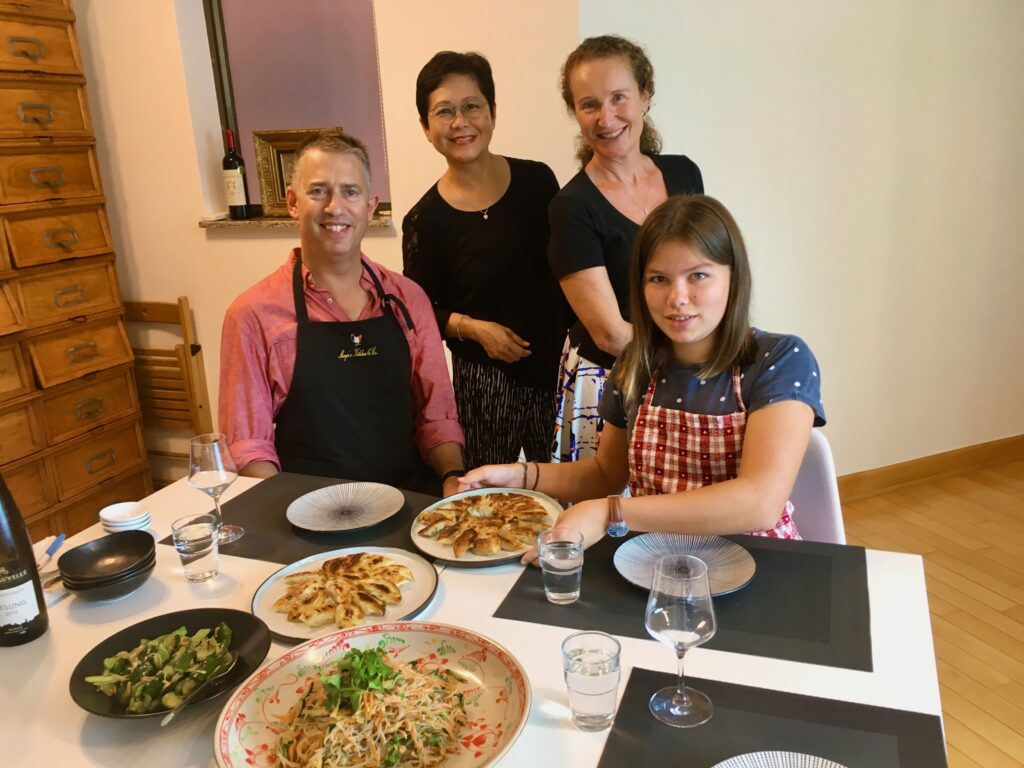 ---
Table of Contents
☬ What You Will Learn
Essential Japanese ingredients and condiments
Japanese food and sake (or tea) culture and history
Health benefits of cooking method and key ingredients
Basic culinary technique: preparation, storage, and presentation
Original recipes with substitutions and variations
☬ Menu
These are 3 examples of popular Japanese cooking classes.
On top, we have a monthly menu that introduce seasonal ingredients.
Please find more information in NEWS, Instagram, and Facebook.
Sushi rice + sushi vinegar
Maki (roll) sushi
Inside out rolls
Sushi burrito, or temaki
Miso soup
**Sushi practice is on the table in a dining room. (Not in the kitchen)
Ramen noodle with pork (or vegetarian)
Topping: ramen egg
Braised lotus kimpira
Goma-ae or seasonal vegetables
Miso-marinated fish or pork ginger or chicken karaage
Tamago yaki (Japanese style omelet)
2 vegetable side dishes
Steamed rice or onigiri
☬ Schedule
By appointment only.
Monday to Friday 10:00 to 13:00 @ Mayu's Kitchen & Co. in Kennedy Town.
Monday to Sunday for 2 hours workshop @ your place.
☬ Cost
850 HKD per person for a group lesson with 4 or more participants.
3,400 HKD per class for 1 to 3 students.
If a cooking class is held in your place and/or outside of Mayu's Kitchen & Co, the rules/basic policy are the same as "Chef Service". Therefore, minimum charge is 6000HKD, and the round trip HK taxi-transportation cost will be charged. For example, If your group has 6 people, the cost of per person is 1000HKD. If the group has more than 6 people, the cost of per person is 850HKD.
☬ Booking Policy
Provide us with details information, including date, # of participants, food restrictions, and as detail as possible.
Receive our pre-booking email with the invoice & our bank account information, if we are available for you. 
Make a payment and send us the copy or snapshot.
Receive our email with the booking confirmation, including the details and the full address of Mayu's Kitchen & Co.
☬ Cancellation Policy
All our classes are non-refundable.
Please inform us as soon as possible if you know you will not be able to make it to the class. With 72 hours' notice in advance, we will reschedule your booking to another class. Otherwise, there is a 100% charge for all cancellations with less than 72 hours' notice. Alternatively, you are more than welcome to send a friend in your place.
Regarding on the monthly fixed-date-classes that are announced in our SNS, the minimum enrollment we require for a class to take place is 4 people. We will decide If a class is cancelled due to lack of enrollment 48 hours in advance, if this is the case, we will call you as soon as possible to let you know. A refund for the class will then be issued.
T8 or above: all of our classes and service are cancelled. We will reschedule your booking to another class.
☬ Special Class Policy regarding the outbreak of Coronavirus
Prior to attending our classes, please ensure you and your close contact family members have not travel overseas nor having any symptoms in the past 14 days. In case of any discomforts, please do not come to class. Please notify us 48hrs prior the class, class fee would be credited to use within six months.
In case of government required social distancing restrictions, classes may be postponed or rescheduled. Affected parties may choose to reschedule or register in another class or keep the class fee as credit to be used at the future classes within six months.
Upon arrival to the class, our staff will perform temperature check and use disinfectant sprays. Please change your shoes and wash hands thoroughly with hand wash upon arrival. Please be aware that face masks MUST be used throughout the entire class. If there are any suspects of sickness, you may be asked to leave the class immediately with no refund or redemption.
Upon signing up to the class, you have agreed to the terms and conditions above. In case of any misinformation, Mayu's Kitchen & Co., reserves the right to make claims for any loss and damages caused.
---

Japanese Cooking Class
If you have any questions regarding details or schedules,
please feel free to contact us.