HELPER COOKING CLASS
Do you want your helper to cook healthy & delicious meals every day? Then you should opt for cooking classes for your helper. By enrolling her in our cooking class, you can instill a positive work attitude and develop a harmonious relationship with her.
We run 2 seasonal classes that cover both Asian and Western cooking (4-week course, at once a week).
Each class covers a new topic, and your helpers are taught different varieties of dishes; Healthy Izakaya menu, Japanese Korean mother's recipes, Festive baked desserts and snacks, and so on. We do not require any prior knowledge of cooking. Both beginner and advanced level helpers can learn culinary skills in our cooking classes. This comprehensive course includes all cooking methods related to vegetables, fish, poultry and meat. In each class, the helpers create a 3 to 4 course meal with their own hands.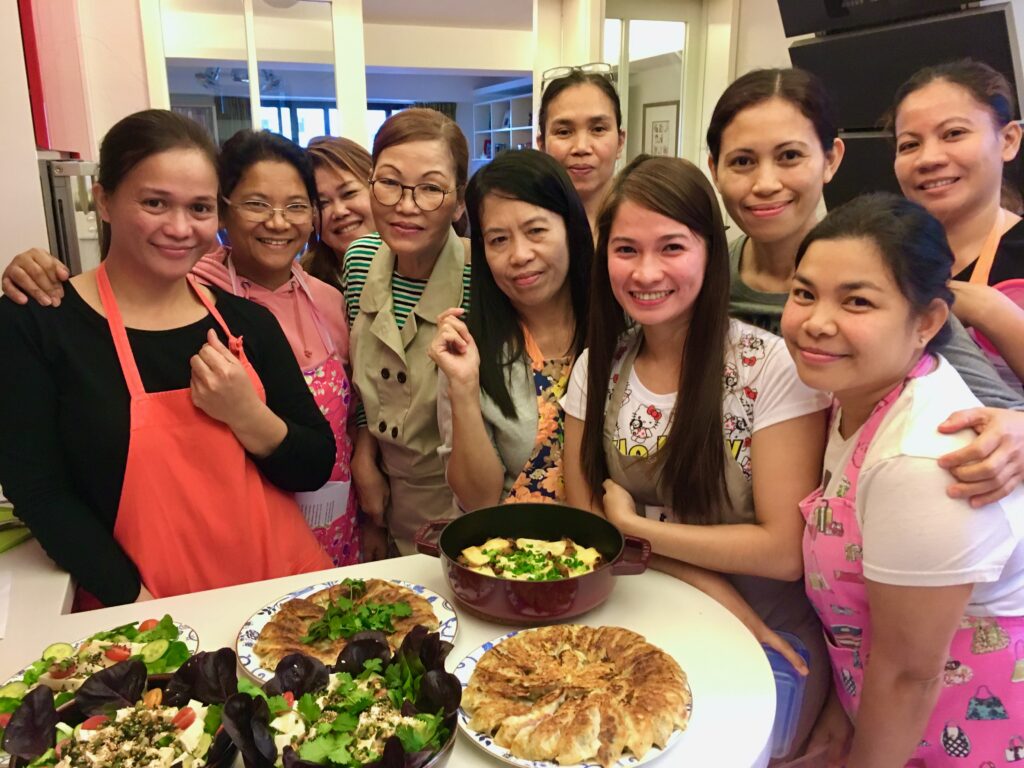 ---
Table of Contents
☬ Menu
Please contact us for the upcoming menu.
We will also announce the menu via our SNS.
For your reference, the following is the menu of November 2020.
3 Nov - Lesson 1
Japanese Tempura & Easy Sushi Cooking (show ▼)
Tempura: Shrimp
Tempura: Seasonal Vegetables(*V)
Lemon Ponzu Cucumber (&crab) Sunomono (Japanese Salad crab, *V)
Basic of Maki Sushi & Sushi rice (*V) * NO raw fish
Easy Maki Sushi / Sushi Burrito (various toppings**V)
10 Nov - Lesson 2
Healthy Asian Family Favorite (show ▼)
Fresh Vietnam Spring Rolls (Various toppings**V)
Baked Korean Spicy Cauliflower (called healthy KFC!) (*V)
Baked Crispy Karaage Chicken Breast, NO fried!
3 Dipping Sauce (*V) (Sesame-Miso Sweet Sauce, Easy Aurora Sauce, & Vietnamese Chili Dipping Sauce)
17 Nov - Lesson 3
Autumn & Winter& Christmas Dinner (show ▼)
Puff Pastry Christmas Tree (+Egg **V)
Coq au Vin (Chicken & Red Wine Sauce)
Kale & Cranberry Salad (*V)
Brioche Pudding with Caramel Sauce (+Egg, **V)
24 Nov - Lesson 4
Savory & Sweet Bread Making (show ▼)
Basic Bread Making
Overnight & Quick Knead Methods
The Easiest Focaccia (*V)
Apple, Squash and Fresh Herbs Flatbread (*V)
Fluffy Japanese Milk Bread (The Softest Dinner Rolls) (*V)
Cinnamon Rolls
☬ Schedule
Spring (February, March) and Autumn (October, November).
Class duration: Once a week in a 4-week course.
Every Tuesday or Wednesday, 10:30am-1pm.
Hands-on 2-2:30hour session with the option to stay and eat or take the food away.
☬ Student intake
Minimum 4 and Maximum 8 students per class.
☬ Location
Mayu's Kitchen in Kennedy town or Happy Valley
(After registration completed, we will inform you the detail address.)
☬ Cost
$750 HKD per class per helper for the 4-day course over 4 weeks.
Total is $3,000 HKD
(Single-shot $ 850 HKD per class per helper.)
☬ Payment
Payment can be made by cash, check, or direct payment (bank transfer).
The deadline is 1 week prior to the staring day.
☬ Booking Policy
The classes are enrolled on a first come first serve basis.
Booking is completed with the confirmation of your payments. The deadline is 1 week prior to the day of the class.
Payment must be made within 24 hours, seats will be automatically released otherwise.
Seat is not guaranteed until payment is made.
☬ Cancellation Policy
All our classes are non-refundable.
Please inform us as soon as possible if you know you will not be able to make it to the class. With 72 hours' notice in advance, we will reschedule your booking to another class. Otherwise, there is a 100% charge for all cancellations with less than 72 hours' notice. Alternatively, you are more than welcome to send a friend in your place.
The minimum enrollment we require for a class to take place is 4 people. We will decide If a class is cancelled due to lack of enrollment 48 hours in advance, if this is the case, we will call you as soon as possible to let you know. A refund for the class will then be issued.
T8 or above: all of our classes and service are cancelled. We will reschedule your booking to another class.
☬ Special Class Policy regarding the outbreak of Coronavirus
Prior to attending our classes, please ensure you and your close contact family members have not travel overseas nor having any symptoms in the past 14 days. In case of any discomforts, please do not come to class. Please notify us 48hrs prior the class, class fee would be credited to use within six months.
In case of government required social distancing restrictions, classes may be postponed or rescheduled. Affected parties may choose to reschedule or register in another class or keep the class fee as credit to be used at the future classes within six months.
Upon arrival to the class, our staff will perform temperature check and use disinfectant sprays. Please change your shoes and wash hands thoroughly with hand wash upon arrival. Please be aware that face masks MUST be used throughout the entire class. If there are any suspects of sickness, you may be asked to leave the class immediately with no refund or redemption.
Upon signing up to the class, you have agreed to the terms and conditions above. In case of any misinformation, Mayu's Kitchen & Co., reserves the right to make claims for any loss and damages caused.
---

Helper Cooking Class
If you have any questions regarding details or schedules,
please feel free to contact us.