Helper Cooking Class JUNE 2023
コロナ規制もだいぶ緩和され、香港にも沢山のお手伝いさんがフィリピンからやってきました。香港では共働き夫婦が多いため、お手伝いさん達(Helper)を雇い、家事を担当してもらう、いう場合が多いのです。 
新しいお手伝いさんの料理の上前をあげたい、美味しい和食、ヘルシーな料理が食べたい!という方、下記のクラスで学んでもらうのはどうでしょうか? 和食の基本の調味料、お弁当の作り方、簡単な栄養学やヘルシーに仕上がる料理法、少し幅を利かせて、韓国料理やフレンチも学びます。
**下記、英語でコニュニケーションをとる雇用主が多いと思いますので、英語で表記させていただきます。
We will open a NEW Domestic Helper's Cooking class, starting on 5 June  2023!  
Your helper will get the confidence to cook Japanese, Korean & French for your family and friends. We usually run a 1 month course that covers Asian and Western cooking at once a week. This course includes many cooking methods such as mastering Japanese basic ingredients, and healthier ways of cooking vegetables and meat. In each class, the helpers create a 5 to 6 different dishes with their own hands
Cooking Class is Starting, 5 June 2023 every Monday, 2 to 3 hours per day, 4-day course over 3 weeks , + 20 recipes (See the menu below).
Schedule: 5 ,12, 14, 19 June. ( Every Monday, plus 14th, Wednesday)
Time: 10:00am-12:30pm Hands-on 2 to 3 hour session with the option to stay and eat, or take the food away.
Location : Mayu's Kitchen. & Co. ( Kennedy Town / near MTR HKU )
Fees: Package of 4 classes. HK$ 720per class per helper Total is HK$ 2880HKD or Single-shot 800 HKD per class per helper)
Booking: "1st come & 1st served" is the rule. Please contact us with necessary information ①②③ below. To secure your booking, the payment confirmation is necessary. After your payment to the following bank account, please send us a copy of your payment slip.
Please mail us vis our "CONTACT" form or Email : contact@mayuskit.com. with
①Employer's Full name & Phone number
②Helper's Full name & Phone number
③Food allergies/limitation if any.
After we confirm your booking & payment, we will give you the full address of Mayu's Kitchen's venu.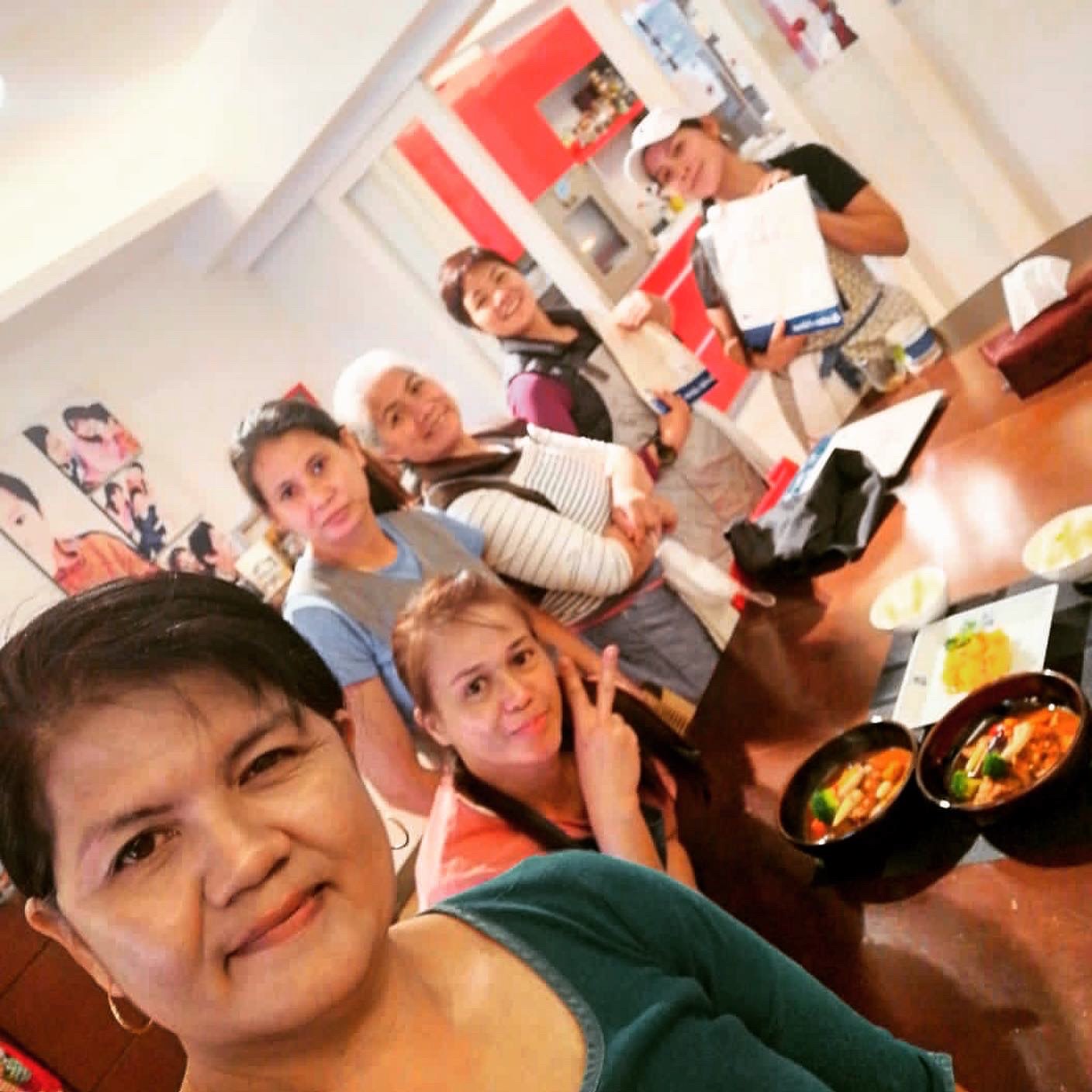 ===MENU===
5 June -Class 1 : Japanese Best & Healthy Bento Box
Master of Basic Japanese ingredients & condiments. (Varieties of Soy Sauce, Mirin, Dashi bouillon, & etc )
-How to choose fresh vegetables & keep freshness of vegetables
-How to make beautiful Bento Box
-Tips of Healthy Bento (5 colors of Vitamin & Nutritions)
-Tender Chicken Karaage (No-deep fried)
-Kabocha (Japanese pumpkin) Teriyaki sauce
-Best Simple Broccoli
-Tamagoyaki (Japanese Omelette)
-Lotus & Carrot.
-Cherry Tomato Heart
12 June - Class 2: Japanese Varieties of Sushi
Master of Basic Japanese Ingredients & Condiments. (rice, vinegar, soy sauce, varieties of seaweeds & etc). * Friendly for No raw fish, Vegetalian; Pescatorian
-Home made sushi rice & sushi vinegar
-Maki Sushi 2 ways (normal + inside-out rolls)
-Temari-sushi (colorful small ball shape)
-Party Chirashi Sushi (Sushi Cake /No-roll sushi)
-Soboro-tamago
-Sunomono Salad, (Cucumber, Crab, Wakame)
14 June (Wed) – Class 3: Korean Healthy Meal
Master of Basic Korean ingredients & condiments ( Sesame oil, Gochujang), and Option of Vegetarian, Spicy, Mild flavors
-Bibimbap (the ultimate mix rice bowl)
-Vegetarian Bibimbap
-3 varieties of Namuls : Carrots, Zucchini, Bean Sprouts ,
-Bulgogi (classic Korean grilled beef)
-Japchae
19 June – Class 4: Easy & Healthy French Meal
Cooking tips of less butter, and cream, Basic knowledge of casseroles style cooking.
-How to cook French with less butter and cream
-Chicken Mushroom Dijon sauce
-Herb Aromatic Pilaf
-Orange Carrot rapes
-Quinoa Tabbouleh
-Non Butter Lemon Moist Cake
Please let us know if you are interested.