Helper Cooking Class Summer 2023
6月のクラスがあっという間に満席となっため、夏のクラスを増設します。キャンセル待ちをされている方は是非お早めに。
香港では共働き夫婦が多いため、お手伝いさん達(Helper)を雇い家事を担当してもらう場合が多いのですが、そんなお手伝いさんに美味しい和食、ヘルシーな料理を作ってもらいたい、という方 是非この機会にご応募ください。
夏休み中、ご家族が帰国されている間にお下記のクラスで学んでもらうのはどうでしょうか? 和食の基本、夏の和食、お豆腐を使ってカロリーを抑えた料理、コレステロール低下のための青魚を使ったお料理など、短期集中の6回クラスで学びます。
**下記、英語でコニュニケーションをとる雇用主が多いと思いますので、英語で表記させていただきます。
We will open a NEW Domestic Helper's Cooking class, starting on 17 July J 2023!
Your helper will get the confidence to cook healthy ways of Japanese Ramen, Okonomiyaki, various vegan, seafood dishes with low-fat, high protein ingredients. We run a 3 weeks course that covers Asian and Western cooking at twice week. This course includes many cooking methods such as mastering Japanese basic ingredients, and healthier ways of cooking vegetables, seafood, and meat. In each class, the helpers create a 4 to 6 different dishes with their own hands
Cooking Class is Starting, 17 July 2023 every Monday & Wednesday , 2 to 3 hours per day, 6-day course over 3 weeks , + 30 recipes (See the menu below).
Schedule: 17 ,19, 24, 26 ,31 July. & 2 August ( Every Monday & Wednesday)
Time: 10:00am-12:30pm Hands-on 2 to 3 hour session with the option to stay and eat, or take the food away.
Location : Mayu's Kitchen. & Co. ( Kennedy Town / near MTR HKU )
Fees: Package of 6 classes x HK$ 720per class per helper Total is HK$ 4320HKD or Single-shot 800 HKD per class per helper)
Booking: "1st come & 1st served" is the rule. Please contact us with necessary information ①②③ below. To secure your booking, the payment confirmation is necessary. After your payment to the following bank account, please send us a copy of your payment slip.
Please mail us vis our "CONTACT" form or Email : contact@mayuskit.com. with
①Employer's Full name & Phone number
②Helper's Full name & Phone number
③Food allergies/limitation if any.
After we confirm your booking & payment, we will give you the full address of Mayu's Kitchen's venu.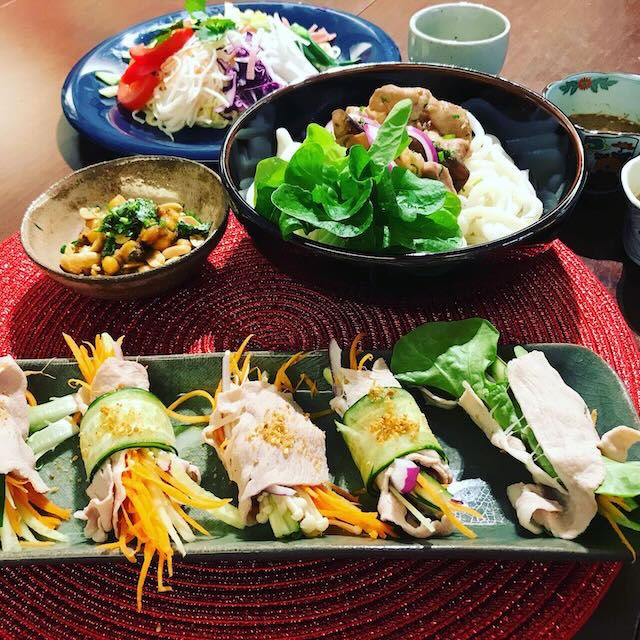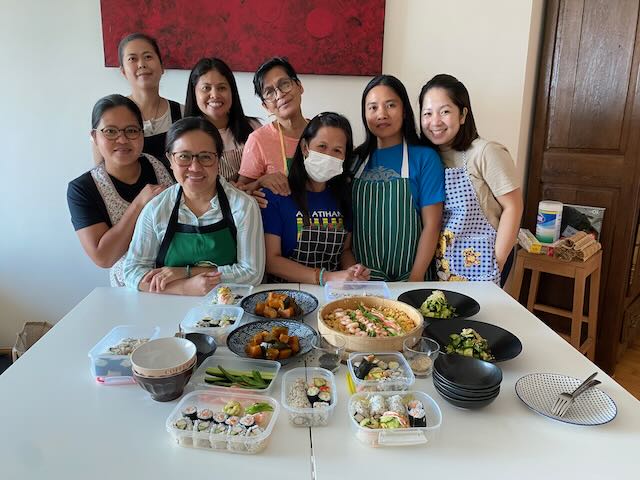 ===MENU===
①17July. Class 1: Japanese Tapas (Izakaya) 
-Master of Basic Japanese ingredients & condiments. (Soy Sauce, Mirin, Dashi  & etc )
-Chicken parts and details
~~~~~
-Nagoya style -Chicken Wing ( Oven Baked)  
-Yakitori  (juicy chicken breast)
-Super Quick. Spicy Edamame  (V)
-Izakaya Ginger Smashed Cucumber(V)
-Hiyashi-Tomato (V)
②19 July. Class 2:  Summer Healthy & "low-fat" Japanese meal
-Master of Basic Japanese Ingredients & Condiments. (Noodles, Dashi, Vinegar, Seaweeds & etc)
- Mentusyu + Dashi bouillon
-How to cook juicy & moist  low -fat / lean meals
-How to present summer dinner with vegetables
-Agar vs Gelatine
~~~~~
-Lean-Pork Shaba shabu & Fresh vegetables 
-Yuzu Kosho Ponzu (V) 
-Creamy Sesame Sauce (V)
-So-men noodle (V)
-Zasu-Soba (V)
-Agar-agar Matcha-Latte pudding
-Mentsuyu ( Dashi bouillon) 
③24 July. Class 3 :  Japanese Ramen (Option: Vegetarian)
-Master of Basic Japanese Ingredients & Condiments. ( Miso & Vegan Dashi Bouillon  etc)
~~~~~
-Traditional Miso-Ramen
-Vegetarian Ramen (V)
-Homemade Vegetarian ramen soup.
-Ramen Egg (Nitamago ) 
-Tofu Soboro (Tofu Crumble) 
-Vegan Coconut Mochi Bite
④26 July. Class 4 :  Seafood Delight cooking  
-Master of Basic Japanese Ingredients & Condiments. ( Miso & Vegan Dashi Bouillon, Ponzu, Sake  etc)
- Japanese traditional Meal Style "一汁三菜" (ichi-jyu- san-sai)
-Japanese table -setting & basic etiquette 
~~~~~
-Saikyo-Yaki ( Miso Black cod  or seasonal white fish )    (Saikkyo-miso, white miso)
-Squid & Summer Vegetables Ponzu Salad 
-Salmon, Shimeji-mushroom, Papillote. (negi & brown/aka miso) 
-Prawn rich Miso soup (mixed miso./brown miso) 
⑤31 July. Class 5:Plant Based Protein & Lower calories  
-What are Tofu  & Tofu varieties 
-Rich protein plants-based food
-Popular & "Must-have"  Spices  in your kitchen
~~~~~~
-Fluffy Okonomiyaki  (Japanese savory pancake) 
-Half-Calorie Hummus 
-Japanese Pumpkin & ShiroMiso  Dip 
-Asian Lettuce Wrap 
-Surprise Chocolate Mousse
⑥2 Aug  Class 6:OMEGA 3 rich fish & plants  
-What is OMEGA3 rich foods & varieties 
-Benefit of OMEGA3 
~~~~~
-Miso Mackerel (Saba. No Mason)  
-Steamed Sake Clams & Cabbage 
-Sardine-Tomato casserole gratin 
-Broccoli and Walnuts salad 
-Crunchy Caramel Nuts 
~~~~~~~~~~~~~~~~~~~~~~~~~~~~~~~~
Please let us know if you are interested.